Rachel Allen shares one of her favourites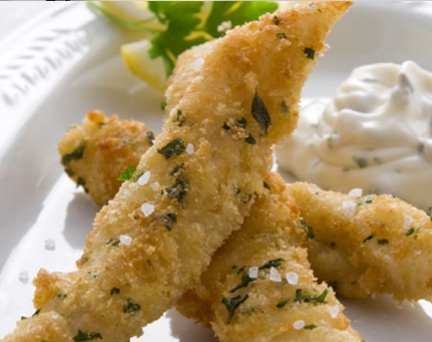 Sesame Goujons of Fish with Mushy Peas and Oven Roast Chips. This is a great dish for the whole family especially the kids love it!
Serves 4-6
Ingredients
4-6 fillets (about 450g/1lb) of plaice or lemon sole
Sunflower oil, for frying
300ml (1/2 pint) milk
100g (4oz) plain flour
Pinch of salt
3 tbsp sesame seeds for the oven roast chips
4-8 potatoes, peeled
30ml (1fl oz) olive oil for the mushy peas
225g (8oz) peas (can be frozen)
15g (1/2oz) butter or 1 tbsp olive oil
Method
1. Prepare the fish by cutting it lengthways or at an angle into goujons (finger-sized pieces), about 1cm (1/2in) wide and 10cm (4in) long. Place the fish in a small bowl with the milk. Place the flour, salt and sesame seeds in another bowl. Preheat the oven to 220°C (425°F), Gas mark 7.
2. To make the oven roast chips, cut the peeled potatoes into chips, about 1cm (1/2in) wide. Place in a medium-sized saucepan, cover with boiling water from the kettle and boil for 1 minute, drain and spread out on kitchen paper to dry. Put the dried potatoes in a bowl and toss with the olive oil, spread out in a single layer in a baking tray and cook in the oven for 15-20 minutes or until golden and cooked.
3. Meanwhile, make the mushy peas. Bring a medium-sized saucepan with 500ml (18fl oz) water to the boil, drop in the peas, cover with the lid just until the water comes back to the boil on a high heat. Then remove the lid and boil for 1-2 minutes until the peas are just cooked but still bright green. Immediately drain them (reserving some of the liquid) and whiz them in a food processor with the butter or olive oil; you may need to add a tiny drop of the cooking liquid or cream if the mixture is too thick. Return the mushy peas to a saucepan for reheating later.
4. Next cook the fish. Heat a deep fat fryer with sunflower oil or a large sauté pan with about 2cm (3/4in) oil. Take the fish out of the milk and drop it into the sesame flour. Toss it in the flour to completely cover each piece of fish and carefully place the fish into the pan of hot oil. Turn them after a minute and cook for 1 minute more - when the flour coating is golden, the fish should be cooked.
5. To serve, place the crispy goujons of fish on plates with the oven roast chips and mushy peas.