Enda Reels 'em in with Fisherman Tale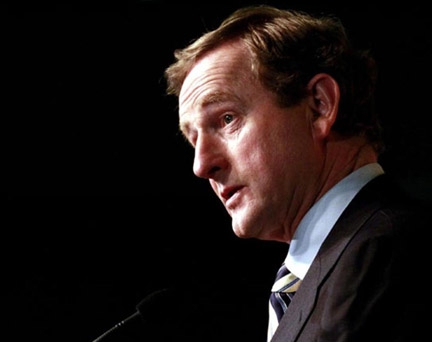 By Claire O'Sullivan
Irish Examiner, Saturday, February 04, 2012
It used to be that taoisigh and politicians visiting Cork couldn't help but wax lyrical about Jack Lynch, Michael Collins, Sonia O'Sullivan or Roy Keane.
Now a humble fishmonger has taken his place amongst this galaxy of stars.
For Taoiseach Enda Kenny didn't make reference to Tom Barry or Terence MacSwiney when he delivered the keynote speech at Cork Chamber of Commerce's annual dinner at City Hall last night.
Nor did he zone in on one of the city's biggest businessmen and former Fine Gael minister for foreign affairs, Peter Barry.
Instead, he spoke about how a Cork fishmonger, who would be described by many as "Pure Cork", had won the heart of the Queen of England when he made her throw her head back in laughter during her visit to the English Market last summer.
"As we meet this evening, relations between Government Buildings and Downing Street are tense. In fact, on my way to Cork, I had to make Prime Minister Cameron and Foreign Secretary Hague very clear on our position. That under no circumstances will a certain fishmonger of this parish... his charm... or smile... be extradited to Great Britain," he said.
"Regardless of how it might delight her Majesty, or raise the happiness quotient of her Kingdom... It's official: we're keeping Pat O'Connell all to ourselves. Until we find a way to bottle him and sell him that is. At which point, our country's fortunes will be restored."
The crowd loved it. That famous picture of the Queen bursting out laughing has earned millions for this city with Cork tourism booming in the aftermath of the Royal visit.
All day, the Mayo man did his best to charm the denizens of Cork, lauding Ballincollig business people at their annual awards for their "determination and energy", the managers of an elderly housing complex in Ballincollig for their "effectiveness in the way in which they spend taxpayers money" and employees at cloud computing giants plant, EMC for their huge role in building Ireland's reputation for IT excellence.
The Taoiseach was something akin to a wartime leader in his talk at EMC, reminding the thousands of workers gathered at a factory canteen that "you are not just going to work each day to do your work but you are working for your country".
"The brand of Ireland is written across everything you do... in the creativity, innovation and passion you bring to your work," he said.
Numerous times in his speech, he humbly mentioned how little he really understands IT advances like databanks and how concepts like cloud computing often go over his head.
Back as a youngster when he "was saving hay" in Co Mayo, he said, "we used to wonder when the clouds were coming if that meant rain". Now that he's Taoiseach, trying to make Ireland "the best little country in the world to do business", he knows that when "the clouds are coming, they are different kinds of clouds and its a tsunami of opportunity".
Read more: http://www.irishexaminer.com/ireland/enda-reels-em-in-with-fisherman-tale-182618.html