Prawn Cocktail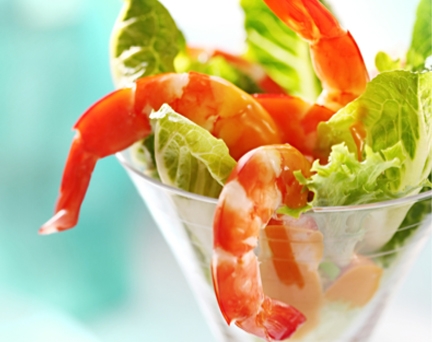 Why not impress your guests with this classic! It may be around for a long time but this is the quickest, and simplest starter dish. If you don't have any creamed horseradish to hand, just add the tomato ketchup for a tasty sauce, there is always an alternative use your inititive.
Prep Time: 5 minutes
Cook Time: 5 minutes
Total Time: 10 minutes
Ingredients:
2 cups peeled, cooked prawns or shrimp
4 tbsp mayonnaise
1 tbsp creamed horseradish sauce
1 tbsp tomato ketchup
2 cups shredded Romaine or iceberg lettuce
1 lime, quartered (roll the lime before you cut it, gets the juice flowing)
4 large, cooked prawns, shelled with tail on
Preparation:
Serves 4
Place the prawns, mayonnaise, creamed horseradish and tomato ketchup into a mixing bowl. Stir to combine all the ingredients; make sure all the prawns or shrimp are coated in sauce .
Divide the shredded lettuce between 4 large wine glasses and top with the prawns and sauce.
Decorate with a wedge of lime and a large prawn(s) on the edge of the glass and serve with small slices of buttered brown bread.