Grilled Dover Sole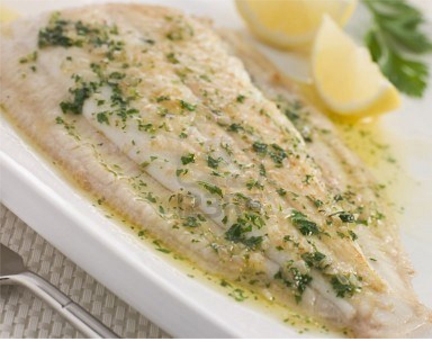 This delicious recipe is quick and easy
Ingredients
For the Dover sole
4 x 450 g whole dover sole
55 g plain flour
55 g unsalted butter, melted
2 lemons, halved
new potatoes, to serve
For the parsley butter
115 g unsalted butter, softened
1/2 lemon, juice only
1 tbsp chopped parsley
Method
1. For the parsley butter:mix the butter with the lemon juice and parsley. Season with salt and pepper. Roll up in dampened greaseproof paper to a sausage shape and put in the freezer until needed.
2. For the Dover sole: preheat the grill. To clean the soles, remove the black skin first. Dip the tail into boiling water then, using the back of a knife, scrape from the tail end towards the body to loosen a piece of the skin. Hold the fish down and grip the skin piece in a cloth. Pull firmly and all will come away. Turn the fish over and carefully remove the scales from the white-skinned side. Remove the head by chopping it off (optional), then cut the side fins away using scissors. Wash and dry well.
3. Season the flour with some salt and pepper, and dip the sole, skinned side only, into it. Shake off the excess flour and place on a grilling sheet, floured side up. Brush with melted butter, and grill on one side for about 5-6 minutes. If necessary, turn over, but test for doneness first. Do this by pushing your finger on to the backbone: if the meat gives sufficiently for you to feel bone, the sole is ready.
4. Take the parsley butter from the freezer and, using a warm knife, cut into thin slices. Lay two slices on each sole and let it melt. Serve with half a lemon and new potatoes.